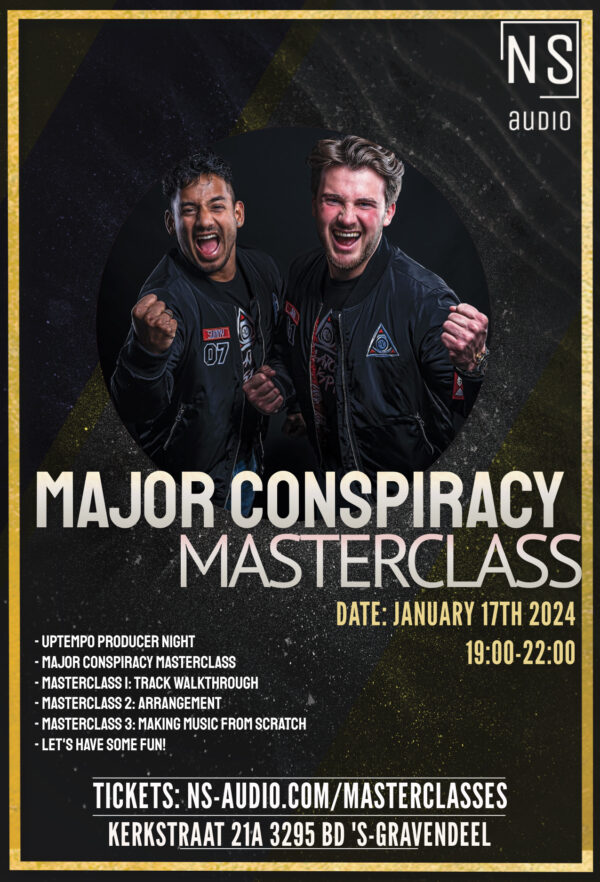 the contents of this pack are digital files and
therefore it cannot be refunded!
€49,99
MASTERCLASS: UPTEMPO by Major Conspiracy [SOLD-OUT]
Hey there, NS Audio Producers Fam! [SOLD-OUT]
Get ready for an epic night of beats and good vibes! We're thrilled to announce our brand new producers night happening on January 17th, 2024 from 19:00-22:00. (IT IS NOT POSSIBLE TO JOIN ONLINE AND THE MASTERCLASS IS DUTCH SPOKEN!)
This time, we're turning the spotlight on the uptempo community, and it's going to be a blast! Join us for an unforgettable evening where you'll have the chance to meet fellow producers, showcase your DJ skills, and enjoy some well-deserved downtime. Grab a beer, share a laugh, and immerse yourself in the world of Uptempo.
But that's not all! We've got something truly special lined up for you. The Major Conspiracy boys will be leading an exclusive masterclass, sharing his invaluable insights and techniques. This is an opportunity you don't want to miss!
Remember, access to this incredible event is limited to ticket holders only. And the best part? Your ticket not only grants you entry but also includes drinks, access to the masterclass by Major, and even some snacks to keep you fueled throughout the night.
So, gather your team and mark your calendars for January 17th, 2024. It's time to come together and celebrate the passion that unites us all – the love for Uptempo!
See you there,
Team NS Audio
(IT IS NOT POSSIBLE TO JOIN ONLINE AND THE MASTERCLASS IS DUTCH SPOKEN!)
Requirements
Masterclasses this night:
Track walkthrough
Arrangement tips
Build a track from scratch
(IT IS NOT POSSIBLE TO JOIN ONLINE AND THE MASTERCLASS IS DUTCH SPOKEN!)