Description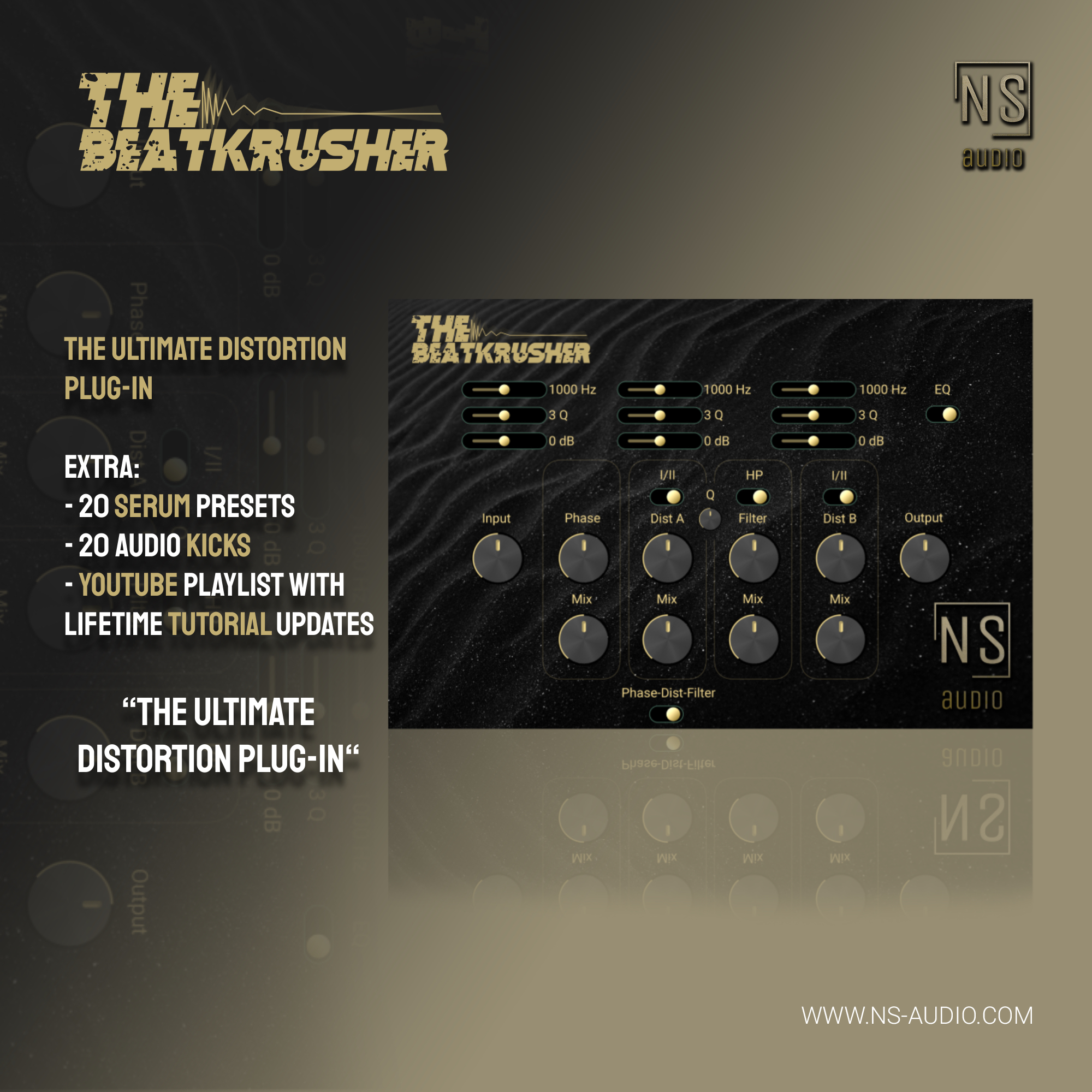 ⬇FOLLOW OUR PLAYLIST WITH LOT'S OF TUTORIALS⬇
NS Audio
Average rating:
30 reviews
Nov 28, 2023
It's a weapon of sonic destruction, awesome kick tool to have in your arsenal!!🔥
Nov 10, 2023
Really cool plugin and user-friendly, you can tweak so easily.
This plugin is next level and it will bring your production to the next level as well!!!
Nov 8, 2023
heavily tweaking with the BeatKrusher plugin form NS Audio!
That thing is naaaaasty!
Nov 1, 2023
Been using the Beatkrusher for a week and I can tell you it slaps🤠🤘🏼
Joey Riot / Destructive Tendencies
Oct 30, 2023
As both Joey Riot and Destructive Tendencies, making quality Kickdrums has always been the holy grail of harder styles production!

This process, which once took years to master can now be done in minutes with NS Audio's The Beatkrusher plug-in!

This awesome distortion unit comes with loads of instantly usable presets as does the Serum patches provided but both can be quickly altered to create unique sounds that will make your productions stand out above the rest.

I can't wait to test it on other sound sources, like screeches, vocals and more.

This game changer is a plug-in that will feature heavily in all my projects going forward.

A must have!

Joey
Oct 26, 2023
A secret weapon for mixing engineers. It allows me to add character and warmth to vocals and instruments. The control it provides over the distortion is great. A top-notch plugin!
Oct 26, 2023
The Beatkrusher is an absolute gem for sound designers and producers. A fantastic addition to my toolkit!
Oct 26, 2023
As a guitarist, I'm loving The Beatkrusher.
Oct 26, 2023
Awesome for Aggressive Crunches!

The Beatkrusher is a game-changer! It adds that extra warmth to my kicks. It's my go-to distortion plugin Highly recommended!
Oct 24, 2023
What a plugin!
My kickrolls instantly jumped to the next level!
Not only kickrolls 😏